Employee Story
Renee S.
Renee is a Director at WR focused on Material Management and Professional and Organizational Development.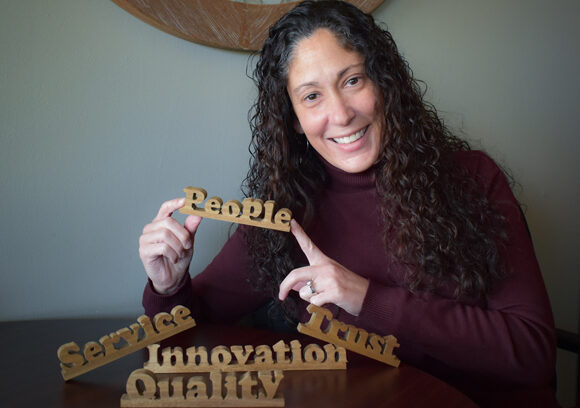 Years at WR: 13
We were walking by Renee's office a few weeks ago, and noticed she had five words carved out of wood on her bookshelf: Trust, Quality, People, Service, and Innovation. WR's values, right there in 3D!  When she told us that the words were a handmade holiday gift from her mother, we knew we were in the presence of some true WR passion.
What led you to your current job and career path?
I like to tell people I grew up at WR. Right after college, I worked at another company, and held a management position; but it just wasn't home.  I heard about WR's culture, and I wanted to be part of it; so, I took an entry-level position, and worked my way up. I learned about purchasing and accounting, program support, documentation, and logistics, and I refined my management skills with each role and promotion. I was mentored at WR every step of the way.
Why at WR?
Many companies say they focus on their people, but at WR, it's not just lip service. We have advocates – experienced managers who have a defined job function and set goals to support employee morale, training, and career development. Our CEO makes this investment by having leaders in roles specifically designed to support our employees. As I grew into my management position, I knew I wanted to become one of these advocates too. I was very proud and humbled when I was asked to join the Professional and Organizational Development team.  It's my favorite part of the work I do for WR – the people piece.
What are you passionate about outside of work?
My family, my friends. Same passion as at work: people. It's all about finding YOUR spot (your home) in this life, and if I can help a colleague or employee or friend with that – I'm happy. I also like hiking. The harder and steeper, the better – like the Half Dome in Yosemite. That surprises some people because I'm afraid of heights (and I usually play it safe). I love pushing through my fear and seeing the view from the top. I like a challenge.
Why did your mother gift you the WR values?
I was raised with values similar to WR's, especially Trust and People, and I take them to heart. My mother knows that – hence the gift. She knew it would mean something.