Employee Story
Phillip B.
Phillip is a Project Manager at WR, as well as the Lead of WR's Integrated Product Support Center of Excellence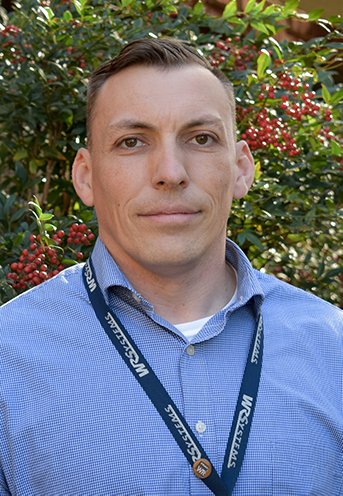 Phillip started his career over 20 years ago as a Nuclear Machinist Mate in the Navy, serving for a time aboard the USS Harry S. Truman. As the Repair Parts Petty Officer, Phillip researched, procured, and inventoried repair parts to minimize steam plant downtime, applying his signature attention to detail to get the documentation in proper order. He was oblivious to how relevant this early tasking would be to his career decades later, when he matured into an Integrated Logistics Support (ILS) expert and manager at WR, and the Lead of our Integrated Product Support Center of Excellence (ICoE).
"Back then, in the beginning, I couldn't even spell ILS," Phillip remarks. "But I was doing ILS – making sure sailors had ready equipment to get the job done."
After leaving the military, Phillip worked for a few different defense contractors, deepening his knowledge of Navy logistics, maintenance planning, and provisioning, including Allowance Parts Lists. As ILS evolved to IPS—Integrated Product Support—Philip honed his expertise in both the legacy and the revised 12 elements of the discipline. Then, six years ago, he found a better fit at WR.
"During my interview, one statement really stood out," Phillip says. "The interviewer told me: 'At WR, we don't just hire for task orders; we hire for careers.'"
The other companies where Phillip had worked hired to fill contract labor categories, and when that one contract ended, the company's interest and investment in the employees often ended as well. In contrast, WR has built a team of experts and a body of knowledge, and we put in the effort to keep employees long-term. Phillip believes in that model. He also appreciates WR's culture.
"It's the small things," he says. "The pins for veterans on Veteran's Day; and the All Staff, where we all get together with the CEO every month; and now, during COVID, the weekly virtual Town Halls to keep us all connected—the efforts made for morale are sincere."
At WR, Phillip is known for his dedication, focus, and ability to get the work done. He's also the first manager to step up to participate in the morale events that he values. As a SME, he has supported logistics for NAVSSI, GPNTS, and DAGR systems, and LCS and PC ship classes. As an ILS Project Manager, he oversees as many as 14 task orders simultaneously. And as the ICoE lead, he provides expertise across the company for all IPS elements, and tracks and applies the requirements of the new Navy Model-Based Product Support program. He is also responsible for bringing the AVCOM tool to WR to enhance our solutions for DMSMS obsolescence issues.
 "It's still all about improving system readiness to help sailors."
As if all that's not enough to convince readers that Phillip is motivated, since coming to WR, he has also earned his bachelor's degree in nuclear engineering technology and his master's degree in management. Outside of work and school, Phillip enjoys construction projects around the house, including a recent garage build; but he is mainly focused on his family and his church. He and his wife, Rebecca, have three children: Jeremiah, Joshua, and Loralie. The family does a lot of game playing and cooking together – no surprise, given Phillip's appreciation for activities that support connection!