Employee Story
Liz S.
Liz is a Contracts Administrator at WR.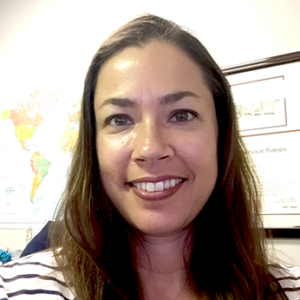 If getting in the weeds is negative, why does Liz seem so positive? She pleasantly spends her workdays examining, analyzing, interpreting, preparing, and revising complex documents, including task orders, and task order modifications. In fact, as the Contracts Team point person for the largest program at the Norfolk Operation Center – the Naval Information Warfare Center Atlantic contract—Liz liaisons with the customer to reconcile issues on up to 25 task orders per week at the end of the fiscal year. She also supports Defense Contract Audit Agency and Defense Contract Management Agency final closeouts and invoicing. Some of us would call that a paperwork nightmare. Not Liz. She just smiles.
"I like the weeds," she says, and goes on to talk about her interest in debate, law, and mathematics. "I'm a detail person."
This works out very well for WR, because "a detail person" who notices subtle but serious issues is exactly what Liz's position requires. She is well-known and appreciated for her work ethic and her ability to move multiple deliverables forward calmly and thoroughly. In addition to her contract administration skills and knowledge, Liz is also an expert in international shipping and the regulatory aspect of exports (ITAR and EAR).
Liz started at WR in 2002 as an Inventory Control Specialist, transitioned to Program Analyst in 2003, and then joined the Contracts Team in 2005, where she's worked ever since. Liz holds a master's degree in business administration and a bachelor's degree in Spanish.
For fun, Liz gets outdoors. She likes to ski. She also camps and, along with her husband and two children, often packs up the RV and heads to Natural Bridge to relax, ignore the weeds for a little while, and take in the grand, spectacular view.